In this section
Members
Alexandra Armijo Fortin
Age group: 35-44
Montréal
"As the daughter of an immigrant, I'm particularly sensitive to our democratic gains. For me, being part of the Citizen round table is an opportunity to move forward the reflection and discussion on a number of issues of concern to me."
Read the interview with Alexandra.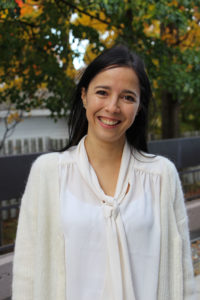 Frédérique Boucher
Age group: 18-24
Capitale-Nationale
"For me, joining the Citizen round table was a natural step since I'm already deeply involved in student affairs at my CEGEP and I was introduced to politics at a very young age by my parents. I'd really like to encourage young people to get more politically involved."
Read the interview with Frédérique.
Jean-Gabriel Hasbani
Age group: 25-34
Outaouais
"This opportunity for reflection will allow me to share on-the-ground observations and ideas I've picked up during my travels to other countries from people who hold different opinions, and to debate them. I could thus contribute to improve our electoral system."
Read the interview with Jean-Gabriel.
Denis Lagacé
Age group: 45-54
Bas-Saint-Laurent
"This place of sharing and discussion will allow me not only to contribute to the future of our democratic institutions, but also to learn and refine my understanding of them thanks to exchanges of views with the other committee members."
Read the interview with Denis.
Marie-Hélène Lyonnais
Age group: 18-24
Capitale-Nationale
"Being part of this committee is an opportunity for me to restore trust among people in my social circle by showing them that it is possible to play a central role in the changes that we want to see happen in our society. Thanks to my involvement with student associations and the school referendum process, I've been privileged to have my confidence in our democratic process revived."
Read the interview with Marie-Hélène.
Joane Marois
Age group: 55-64
Laurentides
"The electoral process is crucially important because it has a major influence on our day-to-day lives after a government is elected. This process must be as ethical and as representative as possible, in order to serve well the citizens' interests and values."
Read the interview with Joane.
Samuel Morin
Age group: 35-44
Gaspésie–Îles-de-la-Madeleine
"First of all, as a resident of one of Québec's most beautiful regions, Gaspésie-Îles-de-la-Madeleine, I believe that regional representation is essential. After all, regional realities cannot be understood without the input of the people who live there. Providing this input is important to me."
Read the interview with Samuel.
Natalie Rouleau
Age group: 35-44
Côte-Nord
"There's no shortage of challenges in my region, where I have been involved in various causes and organizations over the years. But I wanted to step outside my comfort zone and contribute in a different way to the development of the community. For me, the Citizen round table represents a unique opportunity to share knowledge with other people who are driven by the same desire to improve our society."
Adam Samson
Age group: 18-24
Montérégie
"Having already been an election worker several times and having volunteered on various campaigns, I am very familiar with how electoral campaigns work. As I've gotten involved in my community, young peoples' political role and interests have always been at the heart of my concerns. For me, being a member of the Citizen round table will be an opportunity to share a young vision and to bring my experience to the discussions with the other members."
Read the interview with Adam.
Brian Smith
Age group: 65 and over
Montréal
"For me, participating in the Citizen round table means helping to strengthen democratic life in Québec by sharing my ideas and taking part in stimulating discussions about the different aspects of our electoral process. There are certain things that are of particular interest to me, such as democracy education and voter information."
Read the interview with Brian.
Sabrina Vigneux
Age group: 25-34
Montréal
"When I answered the call for committee participants, I saw an opportunity to bridge the gap between state institutions and citizens by proposing innovative and practical solutions with people who share their passion about democratic life and civic involvement."
Read the interview with Sabrina.
Raphaël Yimga Tatchi
Age group: 45-54
Lanaudière
"In recent years, I have been working to promote civic engagement in my community, especially among members of ethnocultural communities. Ultimately, all citizens need to have their voices heard if we are to build a peaceful society where everyone belongs."
Read the interview with Raphaël.
Selection of members
The Citizen round table is made up of a maximum of 12 current or future electors. Members are appointed for a term of two years, renewable once for the same period of time. The composition of the Table aims to reflect the diversity of Québec and all age groups. It aims to achieve parity between genders.
Following a call for applications, all citizens of Québec who wish to do so may apply to become members of the Citizen round table. A selection committee will evaluate the applications received. It then submits its recommendations to the Chief Electoral Officer, who makes the final selection of members and appoints them. Alternate members may be appointed.
Eligibility requirements
To be a member of the Citizen round table, a person:
Must be at least 16 years old
Must be a Canadian citizen
Must have been living in Québec for six months
Must be able to express themselves orally in French
Must not be subject to curatorship
Must not have been convicted of an offence under the election laws
Must not, in the last five years, have:

Been a staff member of a political party (federal, provincial, or municipal)
Held a position or office in a political party (federal, provincial, or municipal) as a result of an appointment
Persons elected in Québec, members of the staff of the Chief Electoral Officer of Québec, returning officers, assistant returning officers, members of the Permanent board of revisors, members of the Commission de la représentation électorale, and members of the Advisory committee of political parties cannot be members of the Citizen round table.
Criteria for the evaluation of applicants
The members of the Citizen round table are chosen according to:
Their motivation to contribute to the work of the Table
Their interest in citizen participation
Their interest in elections, in democratic life, and in democratic institutions
Their volunteer experience in their community or any other experience, professional or personal, related in any way to the Table's mandate
Their ability to analyze and their tendency to be open-minded and respectful
Their basic knowledge of the roles of the Chief Electoral Officer of Québec
Applicants are evaluated in order to favour, as much as possible:
Gender parity
Representation of all age groups
Regional diversity
Socio-professional diversity
Participation of cultural communities
Participation of people with disabilities
Participation of indigenous peoples
How it works
Members of the staff of Élections Québec are responsible for coordinating the work and providing secretarial services to the Citizen round table. The Chief Electoral Officer is the ex-officio chair of the Table but may delegate responsibility for conducting meetings.
The Citizen round table meets at least twice a year. The meetings are usually held on Fridays in our Québec City office. The Chair of the Table determines the timing of meetings and the agenda. They send preparatory files to the members.
All members have an equal voice at the Table. The Chair shall take the necessary steps to encourage the contribution of all members. The meetings are held behind closed doors, but the minutes are made available online. They are written in such a way as to ensure the anonymity of the comments. Élections Québec reports on the work of the Citizen round table in its annual management report.
Members receive a per diem for attending meetings. They are reimbursed for their travel expenses.
For more information, you can read the operating rules (PDF) of the Citizen round table.
Code of conduct
The Citizen round table's code of conduct provides that members work in a spirit of collaboration, openness, and respect, so that everyone can express themselves freely.
Members shall be politically neutral in the performance of their duties and shall act in their own personal capacity, independently of any political party or special interest group. The members give their opinion in the interest of fairness for all Quebec electors. During their term of office, members do not belong to any political party. They must also respect certain rules related to confidentiality and speaking in public. They are also required to declare any potential or apparent conflict of interest.
For more information, please consult the Citizen round table's code of conduct (PDF) for its members.
Meeting reports
Second term: 2019 to 2021
First term: 2017 to 2019
Reports